"Our first year has been positive throughout"
Since 8 June 2012 the bond issued by first-division football club FC Schalke 04 has been traded on the stock exchange. In this interview with IR.on, Johannes Möglich, who is in charge of Corporate Finance and Investor Relations at FC Schalke 04, looks back on the club's first season in the capital market.
Mr Möglich, this year sees Germany's Bundesliga celebrate its 50th anniversary. Did Schalke's bond issue – which was the first of its kind – mark a milestone in the history of the division?
The Bundesliga has a long history of tapping into new forms of funding, which has helped football become an important economic factor in Germany. The issue of a listed bond could open up a new chapter in this respect. But the future will show whether our bond issue served as a door-opener or whether it will be a one-time event. In any case, our first year in the capital market has been positive throughout.
Other German football clubs have avoided the capital market and some have issued so-called "Fananleihen", i.e. "supporters' bonds". From your point of view, what are the main differences between "supporters' bonds" and capital market bonds?
These "Fananleihe" bonds are targeted at football fans, who do not see themselves as investors but as supporters of their clubs. A typical "Fananleihe" is not subject to the requirements arising from a securities listing, and there is no secondary market for trading such bonds. In our opinion, the two instruments can coexist in the financing mix.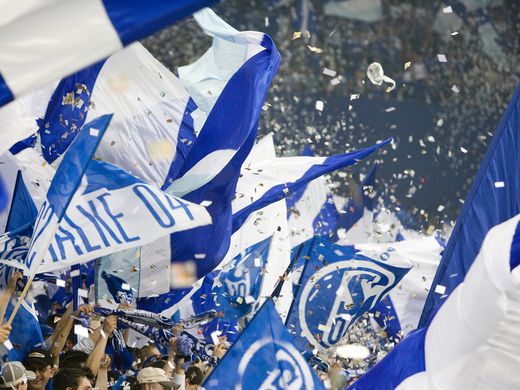 What are the advantages of the listed "Schalke Bonds"?
First, a listed bond can generate higher proceeds for the club, as it is also targeted at institutional investors. This reduces the club's dependence on individual banks. Moreover, a listed bond increases the visibility of the brand and can significantly enhance the image of a professional, transparent and reliable football organisation.
What have been the biggest challenges for FC Schalke 04 in the context of the issue?
A stock exchange listing entails requirements which the organisation must meet during and after the issue. Financial and staff resources need to be available to meet these requirements. But the biggest challenge for us was more of a sector-specific nature. While Germany's Bundesliga has become a brand in its own right over the past years and has established itself on the international football scene, many capital market participants continue to regard professional football as a high-risk, hard-to-predict sector.
What are your arguments against this point of view?
Football clubs cannot be managed and measured using the usual key performance indicators. Their balance sheets, for instance, have only limited relevance, as commercial law regulations make it impossible to fully recognise the values of the players as assets. At the same time, arrivals and departures of players can have a significant impact on the income statement. It is therefore indispensable to use not only KPIs but also football-specific indicators to assess the risks.
Thank you very much for the interview
Johannes Möglich, Dipl. Betriebswirt (graduate economist) and trained banker, has been responsible for Corporate Finance and Investor Relations in FC Schalke's Finance & Controlling unit since 2010. He managed both the issue of Schalke's Fananleihe in 2010 and the issue of the SME bond in 2012.
IR.on AG served as communications consultant in what was the first listed bond issue by a German football club and has since supported the club's financial communications activities.