Pentracor GmbH: EUR 15 million bond launched, FDA approval expected
Cologne, 15 June 2020 – With a certified medical device on the market, reimbursed by all health insurance companies in Germany, the prospect of approval by the U.S. Food and Drug Administration (FDA) and with transparent, conclusive communication initiated by IR.on AG – this has convinced the investors: Capital market newcomer Pentracor GmbH placed its bond despite the crisis-ridden environment.
"Against the background of the challenging capital market environment in Corona times, the trust that investors have placed in us has a very special importance for our company. The placement of the bond speaks for our business model as a whole and in particular for our certified medical product innovation with its unique selling proposition, whose large-scale roll-out we will now immediately start with the proceeds of the issue, or have already started", says Pentracor CFO Sven Haevernick. The medical technology company Pentracor GmbH is operating in the dynamically growing healthcare sector and is about to sustainably expand its business with a product that is already on the market.
With its medical product PentraSorb® CRP, Pentracor GmbH offers a pioneering therapeutic, extracorporeal treatment method. It is used to sustainably contain progressive internal tissue damage in patients after acute events such as heart attacks. Research in this area began at universities in 2003. PentraSorb® CRP is CE-certified, patent-protected and reimbursed by all health insurance companies in Germany. PentraSorb® CRP is not subject to any application restrictions for specific clinical indications, as is the case with drugs for each individual area of application, and can also be used, for example, for stroke patients and rheumatic diseases or even Covid-19. A market volume of EUR 350 to 400 million has currently been identified for Germany in the areas of myocardial infarction and stroke. There is currently no competing medical product and there is no drug that achieves a therapeutic effect in patients like PentraSorb® CRP. Worldwide, experts estimate a market volume of around EUR 11 billion, not including the treatment of Covid-19 patients.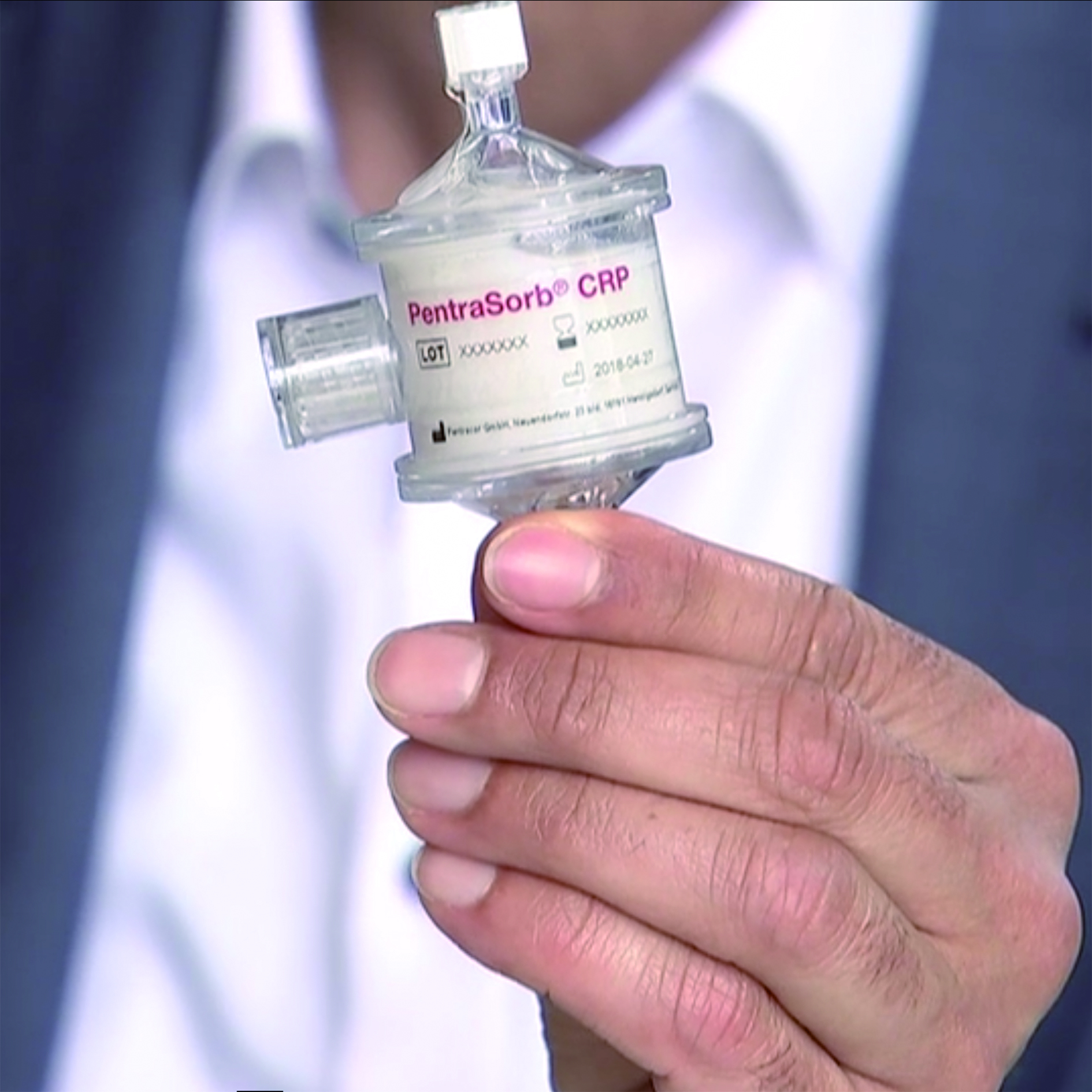 Parallel to the issuance of the bond, Pentracor had already initiated the application for approval of its medical product PentraSorb® CRP for the treatment of Covid-19 patients in the United States at the U.S. Food and Drug Administration (FDA). Now a partner with extensive knowledge of the US market conditions has been found to implement the application. Pentracor CEO Ahmed Sheriff: "We are thus faster on track than planned and assume that we will be able to achieve accelerated approval by the authorities due to the current corona situation on the one hand and that we will have to overcome significantly fewer hurdles in the approval process for the core applications of our medical product on the other hand". In the case of corona, PentraSorb® CRP can be used therapeutically and, in particular, can stop the destruction of the lung and thus save human lives, as has already been proven in cases in Germany. After ten years of development, Pentracor GmbH has reached a point where nothing stands in the way of a national and global roll-out of a recognized product that generates added value for all stakeholders.
The issue was directed to qualified investors via private placement and a minimum subscription of EUR 100,000. The interest rate is 8.50 % p.a., the term of the bond with a possible convertible right (IPO or exit) is 5 years. The bond has been listed on the Open Market of the Frankfurt Stock Exchange since 29 May 2020 and is tradable with a par value of EUR 1,000. The bond issue of Pentracor GmbH was structured by One Square Advisors GmbH (One Square Financial Engineers) and accompanied by Heuking Kühn Lüer Wojtek PartG mbB as legal advisor as well as IR.on AG as communication consultant. The subscription service was realized by BankM AG.