Media Study 2016: Börsen-Zeitung ranked in first place
Börsen-Zeitung leads rankings for quality and influence, handelsblatt.com is seen as best online financial media outlet
Daily papers lose in importance but remain most read media category
Financial professionals increasingly willing to pay for editorial web content
Social media have virtually no relevance for German financial professionals' work
Cologne, 22 September 2016 – Börsen-Zeitung is the financial and business publication which is most read by German small and mid cap investors and analysts; it is also ranked as the leading publication in terms of quality and influence. Handelsblatt and Frankfurter Allgemeine Zeitung (F.A.Z.) are ranked second and third, respectively. This is the result of the third study of this type conducted by communications consultancy IR.on AG. Like the earlier studies in 2010 and 2013, the survey was designed to assess the importance of the leading financial and business publications in the market segment of small and mid-sized publicly quoted companies. Of the 40 respondents taking part in the study, one half were institutional investors and one half were financial analysts with a professional focus on this market segment.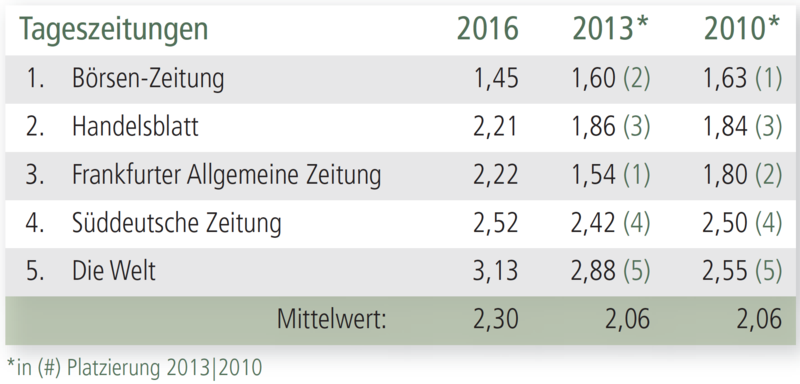 Between them, the investors surveyed manage portfolios worth approximately EUR 17 billion. The 20 financial analysts among the respondents work at banks, brokers and at independent research houses covering a range of more than 1,500 second-tier stocks.
The survey held in July and August 2016 identified the media used by the investment professionals for purposes of work and asked respondent to rate the publications in terms of both the quality of their coverage and their influence on their day-to-day work.
Daily papers continue to reign supreme in terms of the perceived journalistic quality of their coverage
Notwithstanding the good result scored by Börsen-Zeitung, the study concludes that daily papers are losing in importance overall. These publications were rated as an important or very important media category by 73 percent of respondents, which puts them in third place behind the news agencies (85 percent, with Bloomberg clearly being favoured by most respondents) as well as online media (78 percent). In 2013, daily papers were still ranked in first place with 85 percent. Online media have advanced substantially in the ranking, demonstrating their rising relevance in investment professionals' information procurement. Online finance portals have gained in importance as well; dgap.de, finanzen.net and finanztreff.de have joined the ranks of the most-read offerings, having scored significant increases in respondents' spontaneous/unaided naming of publications.
Daily papers continue to reign supreme in terms of the perceived journalistic quality of their coverage, lead by Börsen-Zeitung with a score of 1.45 ahead of Handelsblatt (2.21) and F.A.Z. (2.22) in second and third place. Three years ago F.A.Z. was still in the lead here but its perceived quality has apparently slipped, as has Handelsblatt's. The best marks in the business and investor magazine category were scored by Manager-Magazin and Nebenwerte Journal (both at 2.23) as well as Wirtschaftswoche (2.29). Asked about the perceived quality of the online financial media, respondents ranked handelsblatt.com (2.15) und manager-magazin.de (2.17) best.
A positive trend emerged in terms of the acceptance of paywalled web content; 80 percent (2013: 60 percent) of the polled financial professionals indicated their general willingness to pay for editorial online content.
For the first time in this series of surveys, the participating investment professionals were also asked about the importance of social media for the day-to-day work. It turns out that three in four respondents attribute hardly any importance to social media, thereby relegating this category to last place.
A summary of the survey results is available HERE.
Contact
IR.on Aktiengesellschaft
Frederic Hilke
Tel.: +49 221 91 40 970
E-Mail: info(at)ir-on.com